Mystic Moot
Mystic Moot makes melodic, instrumental, mid-tempo dance music with elements of trip hop, rock, reggae, and Dub. Featuring the production skills of Joshua Mouton, Mystic Moot released their debut Cd Dub Trance Mission in March 2009. It represents two years of recording and musical experimentation. When the group started playing live shows in early 2009, guitarist Mark Poitras was brought in to expand the sound and Greg Main joined the group on drums in January 2010. The group today combines live looping and samples with live instruments to create a unique sound.
Members of Mystic Moot are veterans of the Austin, TX music scene. Joshua Mouton plays Bass, Keys, and Guitar, using a Macbook with Ableton Live. He has appeared on Bass in many bands over 15 years with Collect All Five, Sugarback, Sinai Fiyah, Michael Bliss, and Elizabeth Wills. Greg Main has 20 years experience on Drums, playing with Blaggards, The Possums, Devin the Dude, and Coughee Brothaz. Mark Poitras plays guitar and is a multi-instrumentalist and music producer having played with Elizabeth Wills, Tumbateo, and Collect All Five. Mark also heads up MP Soundcraft, which specializes in producing music for various forms of video and media. Jason Frey appears on Sax on Dub Trance Mission, and plays live with the band on a frequent basis. He was also a member of Collect All Five and currently plays with Hard Proof Afrobeat and Black Joe Lewis.
Dub Trance Mission
The album Dub Trance Mission is a result of recordings done over two years with Joshua Mouton producing, playing Bass, Keys, Guitar, and Melodica. Over several sessions, Patrick Montgomery added drums to 8 of the 11 tracks and Jason Frey played tenor sax on 2 songs. The music is a hard to define mix of modern dub and organic electroncia heavy on melody and soul.




Listen To Music!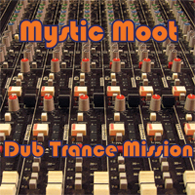 Dub Trance Mission CD
$10.99 plus $2 shipping
Download the Cd from Itunes!